Course details
Weekday only! Normal drink all you can eat 2h 2000 yen women 1600 yen Men 1800 yen (tax included) ※ Friday, Saturday except holidays before holiday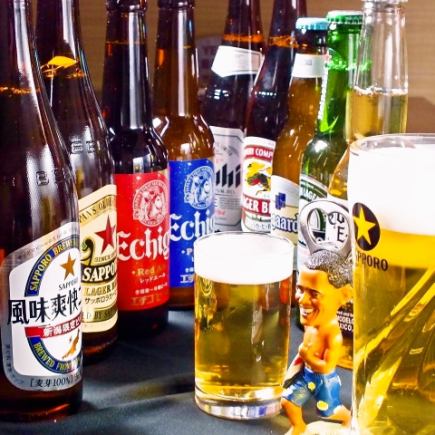 By using a coupon1600 yen
※ The above is weekday limited price except Friday, Saturday, and the day before the holiday.
All-you-can-drink available

※ All you can drink is glass replacement.L. 15 minutes ago.※ The drink with ★ is a premium all-you-can-drink menu.
Reservation deadline

Until 18 o'clock on the day of visit to the store
Available days for reservation

Monday - Sunday - Public holidays - Holidays
All-you-can-drink unlimited prize! Usually 2,000 yen is offered at 1600 yen for women on weekdays, 1800 yen for men (including tax)! ※ Friday, Saturday and the day prior to public holiday are normal rates.* There are days when it is outside the coupon application even on weekdays on a calendar such as a tray.Please contact the shop for details.
Course menu
All-you-can-eat, all-you-can-eat plan! With coupon presentation at the store, 1600 yen for women, 1800 yen for men (including tax) will be drinkable all the time 2h.
All-you-can-drink menu
·beer
· Sapporo black label
· Via cocktail
· Chandigafu / Red Eye
·non-alcoholic beer
· Sapporo Premium Alcohol Free
· Shochu (potato and barley)
· Noriko potato / Japanese wheat
·Sake
· Asahiyama Senju / ★ Kirin Mountain Spicy / ★ Mano Tsuru Dry / ★ Jingaur Ryu / ★ Tsuruga no Momoaki White / ★ Midorikawa Makoto
·Fruit wine
· Pear · liquor / yuzu sake / cherry liquor / plum wine / ★ rice orange / ★ rice apple / ★ greens peach / ★ Yamagata La France
·wine
· Red · White / ★ Apple Wine High Ball
·whiskey
· Water split · hot water split · rock · straight · high ball / ★ blue apple ginger high ball
·sour
· Lemon / grapefruit / yuzu / green apple / lime / peach / giant peak / tomato / calpis / ★ specialties split raw lemon sour
· Cocktail Liqueur
· Cassis / Peach / Lamb / Gin / Vodka
· Cocktail division
· Oolong tea / cola / pine / tea / ginger ale / orange / jasmine tea / calpis / green tea / grapefruit / tomato juice / tonic water
·Non-alcoholic
· Shirley Temple / Tokuya / Tomato Orange
·Soft drink
· Oolong tea / cola / tea / ginger ale / orange / jasmine tea / melon soda / calpis / green tea / grapefruit / tomato juice / tonic water /
· Awamori
· Yonaguni 60 ° / Yonaguni takeoff 30 ° / sea wave 30 °
Coupons that can be used with this course
2019/01/11 update