Course details
【Petty fluffy course】 8 items 4320 yen → 4000 yen! Sun - Thu 3H, Kimuraokuri 2H with all you can do ☆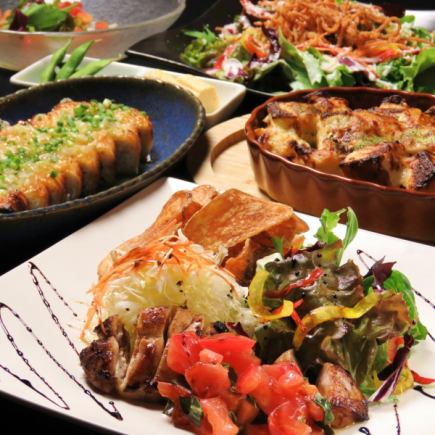 By using a coupon4000 yen
※ It is price including tax
All-you-can-drink available

※ All you can drink is glass replacement.L. 15 minutes ago.※ The drink with ★ is a premium all-you-can-drink menu.
Reservation deadline

Until 0 o'clock on the day of visiting desired date
Available days for reservation

Monday - Sunday - Public holidays - Holidays
In addition to the popular menu such as prefecture-made brand pig "Pure white Bianca" and "Lolita of horse meat", plenty of sashimi assortment of the day etc, Please enjoy with various gatherings recommended gecko proficient course! Sun - Thu All you can drink for 3 hours plus ♪ In addition, we will respond to requests such as those weak at the content of the dish.※ It may be treated as weekends even on weekdays on a calendar such as Obon.Please note
Course menu
"Course content" «※ An example»
◆ Today's overnight
◆ Gekko Original Tartar Potato Salad
◆ Assorted sashimi
◆ Akashi Soup Roll Wrapped Egg
◆ Immortal specialty Let's lose the horse meat
◆ Prefecture-made brand pigs [pure white bianca] grill
◆ Salt Daree Yakina Udon
◆ Mother-chan's direct! Assorted homemade pickles
You can put a premium all you can drink at + 500 yen ※.(Selected 5 kinds of sake selected and specialty sour, etc., all 15 kinds added ☆)
* The contents may be changed depending on the purchase situation
※ If you have difficulty cooking etc. Please do not hesitate to contact us.We respond to the needs of our customers!
※ The picture is a course image photo.
All-you-can-drink menu
·beer
· Sapporo black label
· Via cocktail
· Chandigafu / Red Eye
·non-alcoholic beer
· Sapporo Premium Alcohol Free
· Shochu (potato and barley)
· Noriko potato / Japanese wheat
·Sake
· Asahiyama Senju / ★ Kirin Mountain Spicy / ★ Mano Tsuru Dry / ★ Jingaur Ryu / ★ Tsuruga no Momoaki White / ★ Midorikawa Makoto
·Fruit wine
· Pear · liquor / yuzu sake / cherry liquor / plum wine / ★ rice orange / ★ rice apple / ★ greens peach / ★ Yamagata La France
·wine
· Red · White / ★ Apple Wine High Ball
·whiskey
· Water split · hot water split · rock · straight · high ball / ★ blue apple ginger high ball
·sour
· Lemon / grapefruit / yuzu / green apple / lime / peach / giant peak / tomato / calpis / ★ specialties split raw lemon sour
· Cocktail Liqueur
· Cassis / Peach / Lamb / Gin / Vodka
· Cocktail division
· Oolong tea / cola / pine / tea / ginger ale / orange / jasmine tea / calpis / green tea / grapefruit / tomato juice / tonic water
·Non-alcoholic
· Shirley Temple / Tokuya / Tomato Orange
·Soft drink
· Oolong tea / cola / tea / ginger ale / orange / jasmine tea / melon soda / calpis / green tea / grapefruit / tomato juice / tonic water /
· Awamori
· Yonaguni 60 ° / Yonaguni takeoff 30 ° / sea wave 30 °
2019/01/11 update